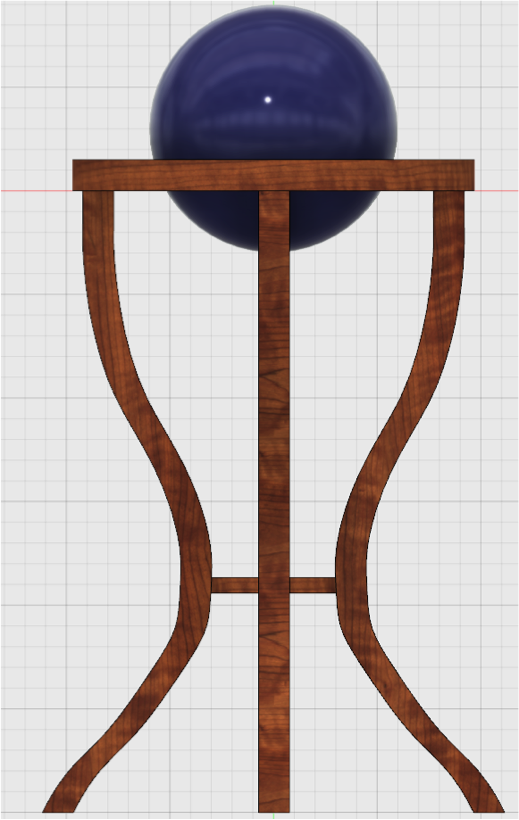 A celestial globe is a map of the stars projected on a sphere. It allows you to hold centuries of astronomical refinement in your hands. The one I have from Sky and Telescope depicts ~3000 stars and a couple hundred deep-sky objects (star clusters, nebula, and galaxies). It's a worthy reminder that all of these objects, even the galaxies, are unimaginably provincial on the universal scale. Still it's a suitable object to contemplate from time to time.
I decided to design and construct a piece of furniture to house my celestial globe. This project was completed in four phases.
Design in Autodesk Fusion 360. I decided to create a 3d model of my design to help me develop it aesthetically. I was inspired by the designers of the Parthenon, the Great Pyramid, Notre Dame, and countless other monuments that implemented the golden ratio (phi) in an effort to achieve a sense of harmony. Phi is also found in countless instances in nature - when the aesthetic becomes indistinguishable from the functional. I've represented phi in six distinct ways in the design (click the picture to see how phi is represented).
Construction of a prototype. The curved legs and bottom circle make the piece deceptively difficult to build. I built the prototype with my dad. I could not have done this without him. I'm new to furniture building and I will always look fondly on our time constructing this together.
Wood selection. I chose a beautiful piece of figured mahogany for the project. The figure gives the appearance of flames imbedded in the wood.
Building the actual piece. We took the lessons taken from building of the prototype and put them in action. I was grateful to have my dad build this with me. We are nearly done with it, will update with pictures soon.
Song I wrote after a girl was looking at her cell phone during our date. Recorded on my cell phone..showed her! Enjoyed the challenge of singing and playing the guitar at the same time to this.
Song I wrote about someone I had a complicated relationship with. And reminding myself of the brevity of life.
A melody I wrote for my PhD advisor and friend - an incredible person. Cell phone recording - needs re-recorded.
The importance of optimism with the new year!
I've always loved that pulse of American music. That sense of frenzied optimism that permeates our culture. Rhythms echoing all the way from Africa. Textures, melodies, and forms that have spread across the world. At our best we harbor an attitude of inclusivity - an open invitation to anybody that wants to add flavors to this tasty musical stew.
Allow me to introduce my friend Jimy's song Music Unites. Jimy is a Parsi immigrant to the United States who has as much of the American spirit as anyone. He is a man of integrity, character, and ambition. I love the message he sends in this song.
I had a blast playing the rhythm and lead guitar on this song. The rhythm guitar part is a fairly straight forward striding blues strum pattern that Jimy taught me. The lead guitar took more deliberation - I wanted to bring my inner twang out and above all, support Jimy's singing.
A huge thank you to our friend Andrew Bronstein for laying the bass down. Andrew is a great bassist with a rich reservoir of musical knowledge. It was like nothing for him to lay his bass down, just 2 takes.
It was a good learning experience to do all the recording and production. The thing I love about this process is that each time I take a project on, I learn a little and the final product turns out a little better. I decided to keep the recording fairly natural - I don't like overly compressed music and Jimy loves dynamics, so turn your speakers up.
A song I originally composed for my bro, but I recently expanded and decided to dedicate it to my whole family.
I enjoy writing pieces of music as gifts for the dear people in my life. I recently discovered this piece I wrote for my mom's birthday on an old computer and decided to do some mixing and mastering on it. I remember being inspired by the famous Sull'aria from Mozart's The Marriage of Figaro.
I'm greatly influenced by a talented college friend of mine. Jackie was our college band's jazz pianist and she ignited my love for jazz. This grew into a fascination with funky groove oriented music ala Medeski Martin & Wood and The Meters.
You know when you have so much fun in a night out that its almost too much? Many of this song's parts were composed with one of those nights out in mind. I recorded all the parts with either guitar or a MIDI keyboard. The end of the song represents the kind of peaceful lull at the end of a long night spent with exceptional people.
I composed this as a gift to my brother Adam and his wife Rebbie for their wedding.
A song about a wild woman.
I enjoy taking my telescope out to look at the night sky. I will always remember the night's my dad and I spent looking at the celestial objects in our backyard. This song was inspired by the incredible view of the Orion nebula. My dad accompanied me on guitar and backup singing. We plan to rerecord the song with better quality one of these days and possibly rewrite the chorus.
I wrote this after seeing the Aug. 2017 total eclipse in Oregon.